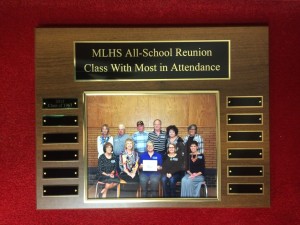 A tent with tables and chairs will be available downtown for ML school alumni to use as a gathering place during the 2015 Peace Treaty celebration. There will NOT be any formal activity such as a banquet or main event this year.
Listed below is the time schedule of when groups of graduating classes may gather together at the tent. This schedule is intended to help organize classes that graduated close to each other and give them specific times to meet. There will be message boards available to sign in or just leave a message if you so desire. If a class or group of classes wants to plan something more than just a get-together during their time slot, they are welcome to do so provided it doesn't conflict with the time schedule. Alumni are welcome to drop by the tent at anytime!
So that we can plan future alumni events, please consider making a donation. By donating here, your contribution will be earmarked for providing support for alumni meetings and activities in future years.
Please also consider joining and contributing to the MLHS Alumni Facebook group.
Plan with your classmates to take a group self-photo and try to be named the class with best attendance. Your picture will be displayed office of the Medicine Lodge Chamber of Commerce as well as on this website.