27th Annual Kansas Championship Ranch Rodeo
September 25 and 26, 2015 | Medicine Lodge, Kan.
---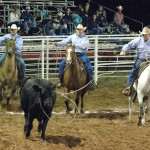 Don't miss the annual Kansas Championship Ranch Rodeo, featuring working cowboys competing in events much like the day work on their ranches. The Cowboy Trappings and Trade Show, the Ranch Horse Show and the Kerry Kuhn colt starting demonstration will make the event unforgettable!
Featured Events
Ranch Bronc Riding
Calf Branding
Cattle Doctoring
Team Penning
Wild Cow Milking
2 Go Rounds
2015 Invited Kansas Ranch Teams
| Team | Home |
| --- | --- |
| Alfalfa Co. & XIT | Sun City and Plains |
| Arndt & Bailey | Emporia and Cottonwood Falls |
| Beachner | Erie |
| Buck Creek & J C Livestock | Cottonwood Falls |
| C5T & Hebb | Benton |
| Haden | Cedar Vale |
| Keith and Robbins | Allen |
| Lazy B | Ellsworth |
| Lonesome Pine | Cedar Point |
| Nine & Boles | Moscow |
| Scribner & Flying P | El Dorado |
| Stock & Diamond E | Redfield |
Midwest Ranch Horse Association Ranch Horse Show
This is the last qualifying MRHA show before finals.
Like the MRHA on Facebook
For more information, email Dwight Bilyk at [email protected] or call 620.565.2245.
Cowboy Trappings and Trade Show
See saddle makers, bit and spur makers, western décor, fashion and ranch trade.
Kerry Kuhn Colt Starting Demonstration
Saturday at 5 p.m. Ticket to the KCRR is required.
KCRR is a committee of the Medicine Lodge Peace Treaty Association, annually working to build funds for the future of the MLPT.
Tickets
$10.00
Tickets are available in advance and at the gate.
Adult price is $10
14 and under are free
Tickets will be available in 2015
Map
Medicine Lodge Pageant Arena is located just south of Medicine Lodge on South Rodeo Dr. view full map
---

WRCA
The Kansas Championship Ranch Rodeo is sanctioned by the Working Ranch Cowboys Association.