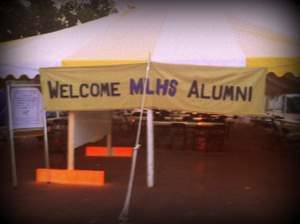 A tent with tables and chairs will be available on the east side of the intersection of Main Street and Kansas Avenue for school alumni to use as a gathering place during the 2021 Peace Treaty.
Listed below are the times when groups of graduating classes may gather together at the tent. This schedule is intended to help organize classes that graduated close to each other to find a time to meet. If a class or group of classes wants to plan something more, they are welcome to do so provided it doesn't conflict with the time schedule. Alumni are welcome to drop by the tent any time! We are asking if your group brings food or drinks that you please clean up when you leave so that the next group can enjoy a clean area.
Friday
Friday night on Main Street is free. There will be a food truck and live music featuring Cynthia Rausch.
| | |
| --- | --- |
| Classes of 1940-1959 | 5 p.m. to 6 p.m. |
| Night Show | 6 p.m. to 7 p.m. |
| Classes of 1960-1969 | 7 p.m. to 8 p.m. |
| Night Show | 8 p.m. |
Saturday
On Saturday, a wristband will be required for everyone after 4 p.m. The Main Street area will be fenced off and entrance will require a wristband. There will be a food court and a street dance.
| | |
| --- | --- |
| Classes of 1970-1979 | 6 p.m. to 7 p.m. |
| Classes of 1980-1999 | 7 p.m. to 8 p.m. |
| Night Show | 8 p.m. to 9 p.m. |
| Classes of 2000-2021 | 9 p.m. to 10 p.m. |
| Night Show | 10 p.m. |
The wristbands may be purchased ahead of time at peacetreaty.org/tickets or downtown the weekend of the pageant. Wristbands are $35 for adults, $15 for kids 7-17. Kids ages 6 and under free. The wristbands are good for all the activities for the weekend – Peace Treaty Pageant all three days, Ranch Rodeo, Bulls & Broncs, dances, Carrie Nation home, Stockade, powwows, kids carnival, etc.
Make sure you plan to take a group photo — the picture of the class with the best attendance will be displayed at MLHS and on the Peace Treaty website, like the class of 2008 pictured above from 2018.
Flyer