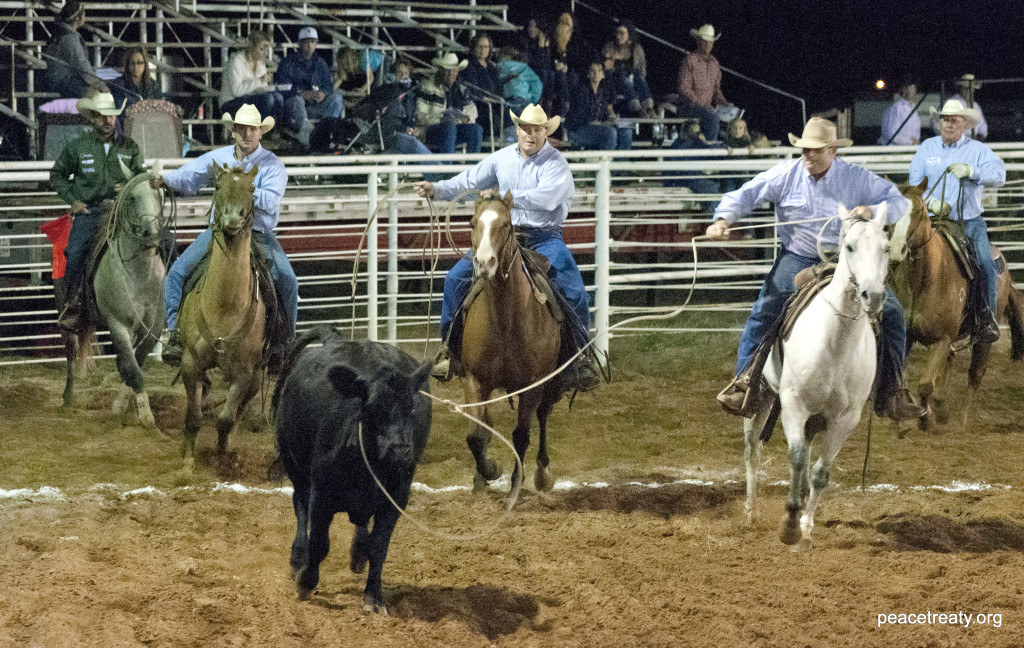 For the first time, you can experience three rodeo events at this year's festival! At the Kansas Championship Ranch Rodeo, watch skilled cowhands and their horses compete in events based on the jobs they do on a typical day at the ranch. New this year is the Kansas Youth Ranch Rodeo, with young cowboys and cowgirls competing for a chance to go to the WRCA World Championship in Amarillo this fall. Saturday night's Bulls & Broncs Rodeo will feature rough-stock only events including bull riding, saddle bronc, bareback and ranch bronc events. There will be a variety of concessions, a beer garden and retail vendors both nights, as well as live music Saturday night.
Kansas Championship Ranch Rodeo
Friday night at 7:30 p.m.
The Kansas Championship Ranch Rodeo presents working cowboys competing in events such as team penning, stray gathering and wild cow milking. These events are based on ranch activities that are still a part of the modern cowboy's daily routine. With the cowboy lifestyle becoming increasingly rare, the ranch rodeo is truly a heritage event, showcasing not only human skill but also their incredibly athletic equine counterparts.
2022 KCRR teams
Bachman Ranch/Piquet Cattle Co.
Broken H Ranch/Nelson Angus
Buford Ranches LLC
Gibbs Cattle/H Cross
JLB Ranch
Rocking P Cattle Co/S&P Cattle
Snyder Ranch/XIT
Sooner Cattle Co
Spring Fed Cattle Co./Struthers Ranches
Sweetwater Cattle/Hebb Cattle
Yazel Land & Cattle
6666 Ranch-Dixon Creek
Kansas Youth Ranch Rodeo
Saturday at noon
Join us for the inaugural Kansas Youth WRCA Ranch Rodeo! Ten teams will compete in events for a chance to compete in the 2nd World Youth WRCA Ranch Rodeo in Amarillo, Texas, this November. Events include sorting, doctoring, trailer loading, branding and the wild steer race. Each participant's individual age limit is 16 and the combined team age cannot exceed 65.
2022 Youth Ranch Rodeo teams
Bar TF | Coffeyville, Oklahoma
Tucker Forth, Dillon Lewis, Will Bell, Tagg Bond, Grady Gatewood

C & C Cattle Co. | Protection, Kansas
Cooper Woolfolk, Quincy Sanchez, Taitym Snyder, Bo Miller, Coy Denison

C3 Cattle Co. | Clarendon, Texas
Caden Anderson, Chance Anderson, Zane McKee, Coy McKee, Tate Thompson

California Creek Cattle Co. | Lenapah, Oklahoma
Nathan Dean, Owen Dean, Lane Close, Wilder Davis, Brody Grigsby

Lazy 5 | Amistad, New Mexico
Dawson Mathis, Trip Saulsberry, Joe Cortese, Hardy Osborn, Rylan Montoya

Nelson Angus | Leonardville, Kansas
Izabel Nelson, Teske Nelson, Kolton Meyer, Weston Holle, Jayden Patry

Rafter J Land & Cattle | Nowata, Olahoma
Jeremiah Highsmith, Will Adcock, Delani Johnson, Braxton Zibell, Hank Hall

Salt Creek Cattle Co. | El Dorado, Kansas
Tagen Carney, Tripp Carney, Luke Campbell, Jared Campbell, Canton May

Sand Creek Ranch | Canadian, Texas
Rankin Proffitt, Clint Cross, Gage Hoganson, Kynadee Sinclair

4B/Turkey Trak | Fairfax, Oklahoma
Dallie Bledsoe, Will Mayfield, Daisie Bledsoe, Olivia Scott, Aaron Watts
Bulls & Broncs Rodeo
Saturday night at 8 p.m.
Delivering action-packed entertainment, top-ranked bucking bulls and broncs will test the skill and stamina of their riders. Following the Bulls & Broncs Rodeo will be an outdoor dance with live entertainment by the Jack Rowdy Band.
Cowboy Trappings and Trade Show
Get some retail therapy under the rodeo arena pavilion where you can shop for goods offered by saddle makers, bit and spur makers, as well as western decor, clothing, accessories and ranch trade.
2022 Ranch Rodeo Teams
Bachman Ranch/Piguet Cattle Co
Broken H/Nelson Angus | Leonardville, KS
Nelson Angus Ranch is located in the northern Flint Hills. Mike Nelson and his wife Becky, their four daughters Izabel, Teske, Koy and Rhett, make up the third and fourth generation as owners/operators of the ranch. The ranch has many divisions to is operation with a large emphasis going towards their registered, purebred cow-calf operation, which consists of Angus, Sim-Angus and Hereford cows. The ranch's main focus is producing breeding stock, bulls and replacement females, which they can offer for sale through private treaty year-round. The operation is also involved in grassing yearling cattle and has a finishing yard. TEAM MEMBERS: Cliff Hall, Brock Hall, Mike Nelson, Brian Wurtz, Clay Hokr, Izabel Nelson
Buford Ranches LLC
Gibbs Cattle/H Cross | Grainola, OK
H Cross Land and Cattle Co. was established in 2007 by Doug Hall and his wife Gretchen. They reside in Grainola, Ok with their 2 sons, Hank-11 and Huck-8 who are both very actively involved and a huge part of the daily workings on the ranch. Currently they run 2,000 head of cows, summer 1,500 steers and annually start 5,000 yearlings all in personal owned and leased land, covering 3 counties in Oklahoma. TEAM MEMBERS: Ty Swiler, Kolby Boos, Doug Hall, Chase Gibbs, Michaela Gibbs, Hank Hall
JLB Ranch | Douglass, KS
JLB Ranch is a large cow/calf operation located in south central Kansas. The focus of the operation is raising high qualify calves where the steers are finished and sold for a premium to either Creekstone or USPB and the heifers are retained for high quality replacements. The company consists of seven different divisions where over 4,700 cows and 1,500 yearlings are grazed. TEAM MEMBERS: Luke Dierks, Sage Dierks, Jason Dierks, Chad Mast, Jud Koziol, Cruz Lacy
Rocking P Cattle Co/S&P Cattle Cattle | Latham, KS
Rocking P Cattle is owned by Chris and Amy Potter. It's based in Latham, Kansas on both owned and leased ground. The operation consists of 225 cows and 350 yearlings. Also, the ranch has contract care on an additional 1500 cows near Dexter, Kansas. S&P Cattle is a partnership between the Peterson family. With operations in Marion and Chase County Kansas and Welch Oklahoma. Justin and Jake Peterson buy and background 350-400 pound calves and send them to the Flint Hills pastures to summer. The operation runs several thousand throughout the year. TEAM MEMBERS: Chris Potter, Colton Potter, Carlee Potter, Justin Peterson, Jake Peterson
Snyder/XIT | Plains, KS
Snyder Ranch is a cow-calf operation. The 11,000 acres of rented and owned grass are located in Comanche and Kowa counties of south central Kansas and is owned and operated by brothers Ty, Tray and Toby Snyder. Most of their 2,000 acres of irrigated and dryland farm ground is planted to triticale for grazing and hay in the winter and crabgrass in the summer. Seven hundred cows and heifers are calved in March and April. Another 300-500 cows are calved in October and November. Spring calves are kept through the winter and run on rye and triticale. A small grow yard has recently been added. Twenty to twenty-five horses are kept to keep the growing crew of kids mounted. Tray and wife Kayla have three kids: Ashton, Chayde and Breckyn. Toby and wife Megan also have three children: Jackson, Reed and Sadie. Frank Morton helps A.I. heifers, brand and wean in the fall. He and his wife Margo live with their daughter, Mesa, near Wright, Kansas. The Adams family got their start in the beef business in the 1880's when H.G. Adams developed one of the earliest commercial feed yards near Maple Hill, Kansas, and began acquiring grass in the Flint Hills. In 1990, H.G. acquired property in southwest Kansas and began a partnership with William Robert of the XI Ranch. In 1934, Raymond Adams, Sr. added the "T" to make the XIT Ranch. Over the years, the family's ranching business would expand to operate lands in Shawnee, Wabaunsee, Sewards and Meade counites in Kansas and Beaver County in Oklahoma, creating one of the most history-rich operations in the U.S. cattle industry. Today, the XIT Ranch/Adams Cattle Co. LLC still operates as much as it did 100 years ago, consisting of a commercial cow/calf and stocker operation, farming business and Quarter Horse breeding program. The ranch is operated by John and Lisa Adcock Adams, with the help of their son, Jack Adams and Cory Rickard. TEAM MEMBERS: Tray Snyder, Toby Snyder, Chayde Snyder, Colby Snyder, Frank Morton, Kash Larrabee
Sooner Cattle Co. | Cedarvale, KS
Sooner Cattle Company has a stocker and cow calf operation with approximately 30,000 acres in Central and southern Kansas. We receive stocker cattle from a sister ranch in Florida late summer/early fall. Stockers will stay on grass for about a year before shipping to our feed yard outside of Garden City. Our cow/calf operation consists of two different classes. We have spring calving cows and fall calving cows to help fill windows in our feeder operation. TEAM MEMBERS: Will Godsey, Russell Powell, Cody Haden, Corey Hurd, Evan Myers Dax Godsey
Spring Fed Cattle Co/Struthers Ranches
Sweetwater Cattle/Hebb Cattle | Newkirk, OK
Sweetwater Cattle has been a family owned and operated ranch for years. We primarily run cow calf pairs and a yearling operation. We own and lease thousands of acres throughout beautiful eastern Oklahoma, primarily in kay and Osage county. We have a great group of cowboys who keep Sweetwater going strong. Hebb Cattle is located in-between the Cross Timbers region and the Flint Hills of Southeast Kansas. Established in 2009, Hebb Cattle is a cow/calf and stocker operation based out of Fall River Kansas. The ranch operates on leased and family owned land in Elk and surrounding counties. TEAM MEMBERS: JR Ramey, Tate Mcclure, Nathan Golay, Curtis Burdette, Bayle Hebb, Nathan Burum
Yazel Land & Cattle | Vinita, OK
Yazel Land & Cattle Company was established in 1985 in Kiowa, Kansas as Mark Yazel Cattle Company. Mark and Brenda Yazel began to build a livestock business now known as Yazel Land & Cattle. What began as a small order buying company has grown into a multi-faceted cattle business. This includes cow calf operation, order buying business, stocker operation and integrated Ranch management. Today Yazel Land & Cattle consists of 4500 acres and is headquartered in Vinita, Oklahoma. TEAM MEMBERS: Justin Janda, Trey Davenport, Joe Snedden, Ryan Rhinehart, Chase Inman
6666 Ranch-Dixon Creek | Panhandle, TX
Establishes in 1870, Four Sixes Ranch leads the agriculture industry in beef production, land management and breeding and raising top performing American Quarter Horses. Their gear and goods mirror the brand: iconic, functional, original and genuine. Four Sixes provides approximately three million pounds of trimmed, retail cuts of natural beef to Americans each year. Through their state-of-the-art facilities, the ranch breeds more than 1,500 Quarter Horse mares annually, and they stand and market more than forty of the industry's top stallions. Four Sixes run a conservative stocking rate of cattle, exercises the latest in brush control and water management, while preserving natual habitats for quail and other wildlife. Four Sixes if among some of the most legendary ranches in Texas history and more powerful today than ever. TEAM MEMBERS: Dusty Burson, Colter Hampton, Zack Peters, Kye Fuston, Zane Herrin, Scott Cutright
The Peace Treaty Rodeo Committee is a committee of the Medicine Lodge Peace Treaty Association, annually working to build funds for the future of the MLPT.