Historical art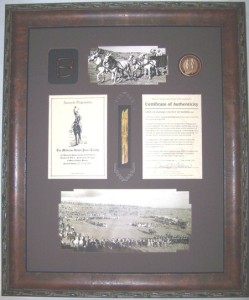 The Medicine Lodge Indian Peace Treaty Association is pleased to announce the release of limited edition historical framed artwork. The association has put together beautifully framed and custom matted pieces of art that are historically significant to the legacy of the Peace Treaty. This edition of art is extremely limited, as there are only 150 pieces of artwork for sale. Each framed art is priced at $150 and can be shipped for a fee of $30.
To place an order, please use the contact form.
Licensed vendors
Find official T-shirts, jewelry and much more available from local vendors.
Licensing policy
While Peace Treaty belongs to the community, the Medicine Lodge Peace Treaty Association serves as its custodian and owns the trademarks to the term "Peace Treaty," the Peace Treaty logo and the Peace Treaty statue.
Use by third parties of any trademarks, likenesses or representations owned by the Medicine Lodge Peace Treaty Association must be granted specifically each year in writing. To obtain permission, submit a proposal including anticipated designs to [email protected] for review by the board of directors at least 90 days prior to a Peace Treaty pageant weekend or Peace Treaty's Indian Summer Days. The Medicine Lodge Peace Treaty Association may deny applications or designs it feels aren't in keeping with our history and traditions.