2018 Peace Treaty Pageant
$30.00 adults
$6.00 children
Children are ages 7 through 12; kids 6 and under enter for free.
Advance tickets must be purchased by September 15 and will incur a $3 shipping and handling charge.
After September 15, tickets will be sold downtown before and after parades and at the event location.
On Friday, ticket cost is $5 for all school and scout groups with advance ticket purchases.
Posters and programs will be sold at several locations for $5
All information is subject to change.
Tickets are available from Select-A-Seat
Larger groups may be eligible for a group discount. To inquire about group rates, or to order advanced tickets for school and scout groups, contact the Peace Treaty office at [email protected] or call 620.886.9815.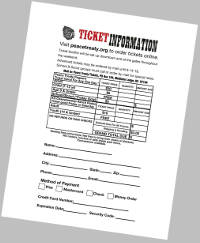 2018 Peace Treaty ticket order form
Tickets are available from Select-A-Seat, but to order group tickets or mail your payment, print the ticket order form.