Medicine Lodge Indian Peace Treaty
A celebration of the history and heritage of Medicine Lodge, Kansas
---
Peace Treaty Festival
September 25, 26 and 27, 2020
The next pageant is in 2021, but this year's Peace Treaty Festival, formerly Indian Summer Days, is scheduled for September 25, 26 and 27, 2020. In addition to the myriad community activities, it's the next opportunity to experience several signature Peace Treaty events.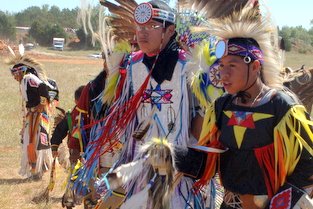 Peace Treaty Powwow
Attending a powwow gives spectators the opportunity to learn more about the history of Native Americans by witnessing a centuries-old tradition. learn more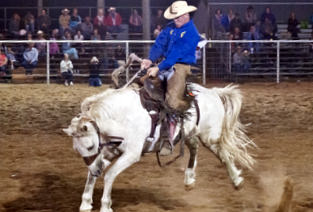 Peace Treaty's Kansas Championship Ranch Rodeo
Teams are invited to compete in events much like day work on the ranch with thrilling action featuring calf branding, team penning, wild cow milking and more. learn more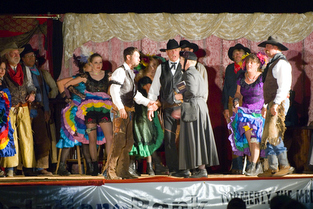 Peace Treaty's Historical Night Show
Don't miss the live melodrama that tells the story of the Medicine Valley Bank robbery on Friday night. Can-can girls and gun-slinging cowboys will take you back to the late 1800s. learn more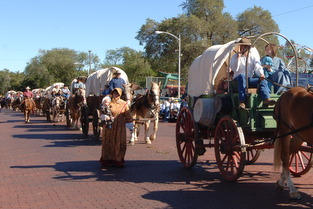 Peace Treaty Parade
The 2020 festival features a parade on Saturday morning on Main Street. Bring a lawn chair and ear protection! learn more
Peace Treaty Pageant
September 2021
In addition to the activities found in Peace Treaty's yearly festival, the Peace Treaty Pageant weekend features many more activities.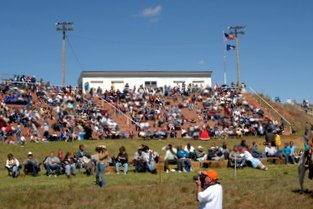 Peace Treaty Pageant
The reenactment of the history surrounding the signing of the peace treaty is the main event. learn more
About the Medicine Lodge Peace Treaty Pageant
The Medicine Lodge Indian Peace Treaty Pageant takes place every three years and commemorates the Great Peace Council of 1867 between the US Government and the five Plains Tribes: Apache, Arapaho, Cheyenne, Comanche and Kiowa. The next pageant will be held in September 2021.
The large-scale reenactment takes place in a natural amphitheater just east of Medicine Lodge in the beautiful Gyp Hills near the original site of the council where the Medicine River and Elm Creek flow together. It compresses 300 years of history into two hours of entertainment and education, celebrating the diverse cultures of the native peoples, discoverers, explorers and settlers.
The pageant is an invitation to watch history unfold. Witness the Spanish discovery with Coronado. Lewis and Clark and Zebulon Pike come alive on the prairie. The natives become unsure of their place in their homelands. Cowboys drive a herd of longhorn cattle. The settlers move west ahead of the impending railroads. Not all are peaceful journeys in the covered wagons, and the cavalry must rescue settlers from a warrior attack.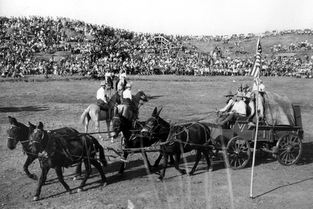 History
It was 1917 that citizens of Medicine Lodge decided to commemorate the Treaty of Medicine Lodge, signed in 1867. learn more