Medicine Lodge Peace Treaty
A celebration of the history and heritage of Medicine Lodge, Kansas
---
Peace Treaty Festival & Pageant
This September 27, 28 and 29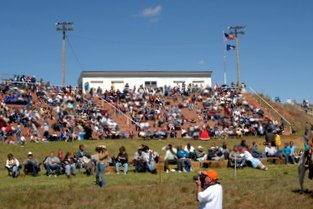 Peace Treaty Pageant
The cornerstone of Peace Treaty is the pageant. It's a large-scale reenactment of the history surrounding the signing of the peace treaty. learn more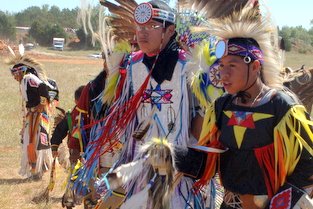 Medicine Lodge Intertribal Powwow
Attending a powwow gives spectators the opportunity to learn more about the history of Native Americans by witnessing a centuries-old tradition. learn more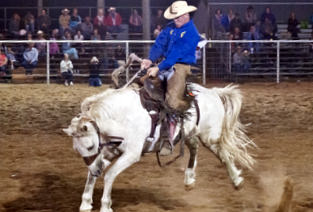 Rodeos
The festival features both WRCA-sanctioned Kansas Championship Ranch Rodeo and Medicine Lodge Youth Ranch Rodeo, as well as the Buckapalooza rough-stock-only event. learn more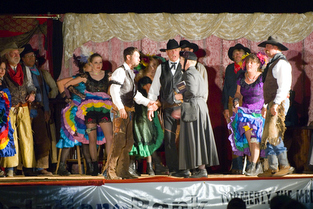 Historical Night Show
Don't miss the live melodrama that tells the story of the Medicine Valley Bank robbery on Friday night. Can-can girls and gun-slinging cowboys will take you back to the late 1800s. learn more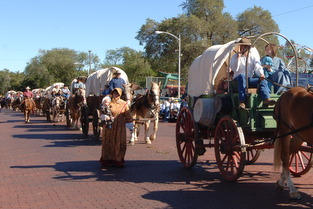 Peace Treaty Parades
The parade will be held on Saturday morning on Main Street. Bring a lawn chair and ear protection! learn more
About Memorial Peace Park
Memorial Peace Park is the site for the annual Peace Treaty Festival, held the last weekend in September. The park has three main areas: the Pageant Amphitheater, the Rodeo Arena and the Powwow Grounds. The Pageant Amphitheater has been the site of the Peace Treaty Pageant since 1927.
Every year the Peace Treaty Festival features rodeos, a powwow, a historical melodrama, children's activities, vendors and more. Every three years we also celebrate the Peace Treaty Pageant, a large-scale historical reenactment. 2024 is the next pageant year!
Nestled on the edge of the Gypsum Hills Scenic Byway and the historic town of Medicine Lodge, Memorial Peace Park offers visitors unique green spaces, magnificent views and calm prairie. Massive development and improvement projects are bringing added opportunities to enjoy this 300+ acre park, such as a visitor center, hiking trails and primitive campsites.
The three parking areas are blue, purple and red. Blue is for buses, physically handicapped guests and participants only. The purple lot is for pageant parking only and closes after the pageant. Red is near the rodeo arena, but is general parking for the event. Shuttles are available to transport guests to the different areas of the park.
The awe-inspiring Pageant Amphitheater can host outdoor weddings, events, exhibits or live performances. Contact us at [email protected] for more information.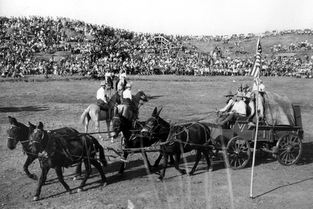 History
It was 1917 that citizens of Medicine Lodge decided to commemorate the Treaty of Medicine Lodge, signed in 1867. learn more