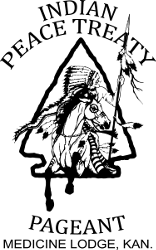 Kansas' own Medicine Lodge Indian Peace Treaty Pageant commemorates the great Peace Council of 1867 between the U.S. Government and the proud civilization of the Plains Indians.
Apache • Arapaho • Cheyenne • Comanche • Kiowa
The large-scale reenactment takes place in a natural amphitheater at Memorial Peace Park just east of Medicine Lodge in the beautiful Gyp Hills near the original site of the council where the Medicine River and Elm Creek flow together. It compresses 300 years of history into two hours of entertainment and education, celebrating the diverse cultures of the native peoples, discoverers, explorers and settlers.
The pageant is an invitation to watch history unfold, and celebrates the area's diverse heritage of Native peoples, discoverers, explorers and settlers. The scene depicting the signing of the Treaty of 1867 is performed by actual descendants of the original tribal signers of the document. Produced by the citizens of Medicine Lodge and their families, you will witness the Spanish exploration of Coronado, and watch Lewis & Clark and Zebulon Pike come alive before you. The Natives (through actor portrayal), uneasy with the encroachment into their territories, must defend their beloved homelands. Real-life cowboys drive a herd of cattle, and settlers move west ahead of the impending railroads. The entrance of the lengthy wagon train into the amphitheater creates an awesome scene, but not all journeys in the covered wagons are peaceful, and the cavalry must rescue settlers from attack. Many of the actors have had family members in the pageant since the first production in 1927!
The community of Medicine Lodge transforms into a frontier town, with parades and the Medicine Lodge historical night show, which re-enacts the bank robbery that took place in 1880s, and Carry Nation, who loved to smash saloons and any place that sold the "Demon Rum!" The setting for the pageant and the entire celebration is wrapped in the rust-colored glory of the Gypsum Hills on the horizon.
Don't miss other signature events including the opportunity to attend the Medicine Lodge Intertribal Powwow and the Kansas Championship Ranch Rodeo and the Bulls & Broncs Rodeo.