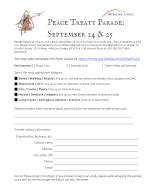 Parade entry form
Main Street both Friday and Saturday mornings.
Pre-register to reserve your spot, provide information for our announcer and
receive updates.
Contact Hannah Brass 620.388.5017 or Dr. Tara Lynch 620.408.5457.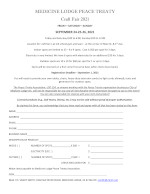 ---
Native American vendors at the powwow
Located at the powwow grounds.
Authentic native goods.
Contact David Colborn 620.213.0506
---
Western Art Show
Located at the Sunflower Room in the People's Bank, Main Street
Original works by authentic western artists.
Contact Earl Kuhn 620-886-5163 or visit https://www.earlkuhn.com/
---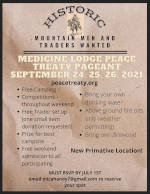 Mountain man encampment
Located just south of the amphitheater and west of the powwow grounds at Memorial Peace Park.
Primitive camping and vendor space for primitive goods.
Contact Micah Waggoner 620.213.0978