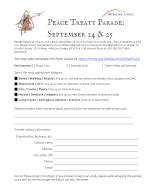 Parade entry form
The parade will be on Main Street both Saturday morning.
Pre-register to reserve your spot, provide information for our announcer and
receive updates.
Contact Hannah Brass 620.388.5017 or Dr. Tara Lynch 620.408.5457.
Online parade entry form (preferred)
Printable parade entry form will be available at a later date
---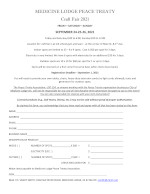 Vendor application
All vendors are required to submit information using the online vendor application form.
---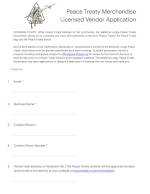 Licensed vendors of Peace Treaty merchandise
LICENSING POLICY
While Peace Treaty belongs to the community, the Medicine Lodge Peace Treaty Association serves as its custodian and owns the trademarks to the term "Peace Treaty," the Peace Treaty logo and the Peace Treaty statue.
Use by third parties of any trademarks, likenesses or representations owned by the Medicine Lodge Peace Treaty Association must be granted specifically each year in writing. To obtain permission, submit a proposal including anticipated designs to [email protected] for review by the board of directors at least 90 days prior to a Peace Treaty festival and/or pageant weekend. The Medicine Lodge Peace Treaty Association may deny applications or designs it feels aren't in keeping with our history and traditions.
Fillable Peace Treaty merchandise license application