2019 Peace Treaty Festival Parade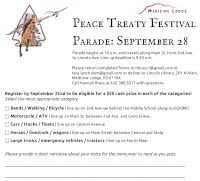 Everyone is welcome to join in this year's parade, but we do ask that you submit a completed entry form prior to participating. Instructions for submission are on the form. Download the paper form or submit the online form.
---
Bands / walking / bicycles line up on 2nd Avenue behind the Middle School playground/UMC
Motorcyle / ATV line up on Main Street between 2nd Ave. and Central
Cars / trucks / floats line up on Central Avenue
Horses / livestock / wagons line up on Main Street between Central and Stolp
Large trucks / emergency vehicles / tractors line up on North Main
Bring your lawn chair and a camera – and don't forget ear plugs! Our cowboys love shooting their guns in the air as they ride by.
Pageant celebration parades
You'll see Native American dancers, a wagon train, Indian Maidens, classic cars and so much more.
Highlights from 2015 Peace Treaty Pageant celebration parades